Depending on the sensitivity of your material, center winders with controlled drives in torque or speed can be used. These are available in different variants, as a mobile device or permanently installed.
The MENZEL electric center drive (german: MENZEL-Elektro-Zentrums-Antrieb) is suitable for different use on all lines at different winding points.
The hydraulic MENZEL center drive can be used autonomously, is cost-effective and has been proven 100,000 times.
stainless steel MEZA-winder
The mobile MEZA winder in stainless steel design is also suitable for clean rooms in the medical technology and food industry.
Menzel OPTIDWELL-H: our hydraulically driven dwelling stations for discontinuous dwelling
Menzel center winders can be used with electric drives for discontinuous dwell.
Unwinder with one-sided mounted winding shaft
The reels, e.g. sensitive films and nonwovens, are pushed onto the overhung winding shaft from the side.
Center winder with support roller
Winding shaft with fixed bearings on one side and swiveling counter bearing side as well as driven support roller for different winding characteristics.
heavy duty center winder with mandrel
Unwinder for flooring up to 10 tons in front of a cutting unit
Center winder with hinged bearing
Winder with direct drive via hollow shaft gearbox on hinged bearing. Speed control or torque control of the drive via PLC control.
Unwinder with one side bearing for jumbo rolls
The circumferential belt unwinder with loading system is the economical solution for unwinding large rolls of airlaid.
Center winder with mandrel
Unwinder with web edge control and splicing station. Spindle sleeve holder for different core diameters and core widths.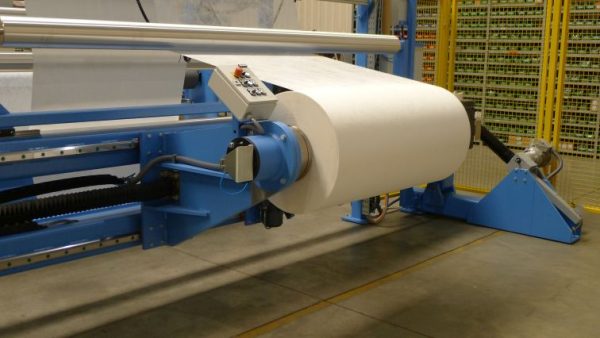 For easy pick-up of the rolls to be unwound, they can be picked up from the floor or from a pallet with the winding arms.
Center unwinder pickup web edge controlled
Roll take-up from 500 mm to 3,600 mm width as well as automatic web edge centering control via different edge sensors, depending on material.
Center unwinder steel coils
Single-sided expansion shaft for heavy steel coils with hydraulic tensioning device including edge control.
Center unwinder with 36 winding positions for film
Unwinder for sensitive film supported on one side as infeed of a double belt press.
Aggregates and accessories for winding
SBH
Wrinkle-free guidance of delicate goods
BSW
Wrinkle-free fabric webs
Textile, foil, paper
Slat expander
Gentle fabric guidance of textile fabrics
Edge trim
Cutting of edge strips from textile, foil, nonwoven
Selvedge Winder
Mobile winding of edge trim
A-frame
Winding, transport and storage of large rolls
Banding unit
for sealing rolled up goods
wellenhandling
effective pulling of winding shafts
Do you need more information? We look forward to hearing from you!