Winding machines for a wide variety of web-shaped materials are our special competence. Whether nonwovens, textiles, technical textiles, paper, sensitive membranes, glass fabrics, rubber, rigid films, glass fibers or carbon fibers - we have the know-how to wind these materials reliably. Based on your individual requirements and our wide range of winding machines, we design the ideal winding process for the material.
On the a-frame system developed by Menzel, rolls with a diameter of up to 2 meters can be optimally wound with the aid of specially designed center winders. This can be done on special stationary winding frames as well as on mobile docking carriages. The advantage of this system is the long running times and short changeover times. Winding machines for large reels can either be built as a system with manual roll change or with fully automatic reel change.
Fully automatic a-frame winder 2 winding stations
Fully automatic large reel winder for films or nonwovens with and without carrier fabric.
Automatic a-frame winder for nonwoven, 2 winding stations
A-frame winder with fabric accumulator and two winding positions to ensure quick roll change.
A-frame winder, 2 winding stations
A-Frame winder for thermoforming sheet with two winding stations, draw unit, cross cutter and fabric accumulator.
A-frame winder woven goods/Raschel machine
The a-frame winder at the outlet of a Raschel machine winds elastic knitted fabric onto a docking car.
Unwinding platform edge-controlled
An edge control enables straight-edge winding, which is achieved by traversing the winding stand.
Fabric inlet wet machines with trough
Continuous fabric inlet with stainless steel storage trough for wet finishing applications
This outlet with winder and cuttling was designed as a combination for wet machines.
Depending on the sensitivity of your material, center winders with controlled drives in torque or speed can be used. These are available in different variants, as a mobile device or permanently installed.
The MENZEL electric center drive (german: MENZEL-Elektro-Zentrums-Antrieb) is suitable for different use on all lines at different winding points.
The hydraulic MENZEL center drive can be used autonomously, is cost-effective and has been proven 100,000 times.
stainless steel MEZA-winder
The mobile MEZA winder in stainless steel design is also suitable for clean rooms in the medical technology and food industry.
Menzel OPTIDWELL-H: our hydraulically driven dwelling stations for discontinuous dwelling
Menzel center winders can be used with electric drives for discontinuous dwell.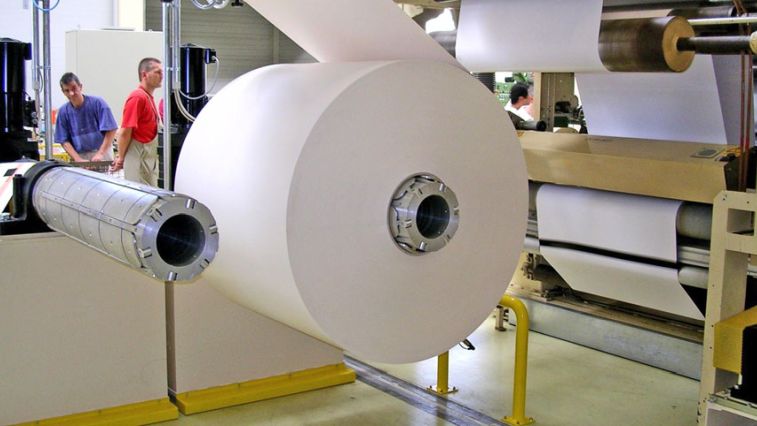 Unwinder with one-sided mounted winding shaft
The reels, e.g. sensitive films and nonwovens, are pushed onto the overhung winding shaft from the side.
Center winder with support roller
Winding shaft with fixed bearings on one side and swiveling counter bearing side as well as driven support roller for different winding characteristics.
heavy duty center winder with mandrel
Unwinder for flooring up to 10 tons in front of a cutting unit
Center winder with hinged bearing
Winder with direct drive via hollow shaft gearbox on hinged bearing. Speed control or torque control of the drive via PLC control.
Unwinder with one side bearing for jumbo rolls
The circumferential belt unwinder with loading system is the economical solution for unwinding large rolls of airlaid.
Center winder with mandrel
Unwinder with web edge control and splicing station. Spindle sleeve holder for different core diameters and core widths.
For easy pick-up of the rolls to be unwound, they can be picked up from the floor or from a pallet with the winding arms.
Center unwinder pickup web edge controlled
Roll take-up from 500 mm to 3,600 mm width as well as automatic web edge centering control via different edge sensors, depending on material.
Center unwinder steel coils
Single-sided expansion shaft for heavy steel coils with hydraulic tensioning device including edge control.
Center unwinder with 36 winding positions for film
Unwinder for sensitive film supported on one side as infeed of a double belt press.
We have already realized support roller winders up to 15 m width. This type of winder is often used to wind large and heavy rolls onto small core diameters. Here, the material roll rests with its full weight on the support rolls. Thus, there are no problems with deflection of winding shafts. Depending on the application and material type, the winders are used with or without fabric accumulators. Automatic roll change is possible in both cases.
Carrier roll winder WOB 5,600 mm for light nonwovens
Support roll winder with slitting unit for light nonwovens, inspection section, suction unit and automatic roll ejection.
Automatic support roll winder WOB 3,600 mm for nonwoven
Automatic cross-cutting, roll ejection and application of the beginning of the material to new prepared sleeve.
Support roller winder Raschel machine for geogrid coating
Winder behind coating machine, with pneumatic load adjustment of the support roller
Support roller winder weaving machine
Winder with automatic ejector roller in reinforced version for technical textiles.
Support Roller winder with center drive
WOB 5,600 mm support roller winder for geofabric
Fully automatic carrier roll winder for geotextile with a width of up to 5,600 mm and a production speed of 80 m/min.
WOB 8,100 mm support roller winder for landfill film
Winder for landfill film up to 8,100 mm width as well as folded film, with automatic cross cutter and stapler device for fastening the beginning of the material.
Support roller winder for fiber glass mat
Carrier roll winder with automatic winding shaft handling as well as cross cutter and hot melt device for roll change.
In a continuous manufacturing process, the line cannot be stopped during reel change. Turret winders are then used for this application. These enable a roll change at full production speed.
Turret winder with fixed winding shaft
Short roll turret winder for PVC
3-position turret winder for fast roll changes including roll unloading via driven conveyor belt.
Turret winder for folded fleece
Automatic turret winder for the reliable winding of doubled nonwovens for nonwoven early bed covers 
Turret winder for cotton fleece
Turret winder with slitting device including automatic unloading trolley.
The fully automatic swivel winder with contact roller and sensitive web tension control enables straight-edge winding.
Turret winder with removable winding shaft
Turret winder for glass mat
Turret winder for high web tension with automatic cross cutting unit to prepared cores.
Turret winder for nonwoven
2-position turret winder for widths up to 4,000 mm and high speeds up to 200 m /min with automatic folding bearing
Reversing winder for technical fabrics
Turret winder for weaving beams with inner square and extra wide fabric up to 5,600 mm
Turret unwinder for nonwoven
Unwinder with lifting device and driven winding station for manual roll change.
Turret winder for nonwoven
Turret winder with support arm and circular knife for automatic change to prepared cardboard core. Slitting device
Turret unwinder for nonwoven
Turret unwinder with braked winding point
Turret winder for glass mat
3-position turret winder for quick roll changes
Turret winder for composites
Turret winder with connecting station, reel change by forklift or crane
Turret winder for nonwoven with lifting device
Turret winder with contact and gap winding at the outlet of a laboratory plant
Contact winders combine the advantages of circumferential winders and center winders to produce tight rolls. Depending on the material, the pressure of the support roller on the roll can be adjusted. Contact winder can be combined with cutting units. Optionally, we offer the handling of winding shafts by means of a winding shaft pulling device.
Linear contact winder for film
Film winder with slitting unit and winding shaft handling for speeds up to 400 m/min.

Contact winder for filter fleece
Winder with tape cutting unit as well as brush combination for applying different materials to unprepared cores.
Contact winder for nonwoven
Nonwoven winder with crush cutting unit for slitting and semi-automatic winding shaft handling.
In addition to our wide range of winding machines for various applications, we have realized numerous special winders. We also respond individually to your special application.
Unwinding creel carbon fibers
This unwind creel for carbon fiber spools was specially made according to customer's requirements.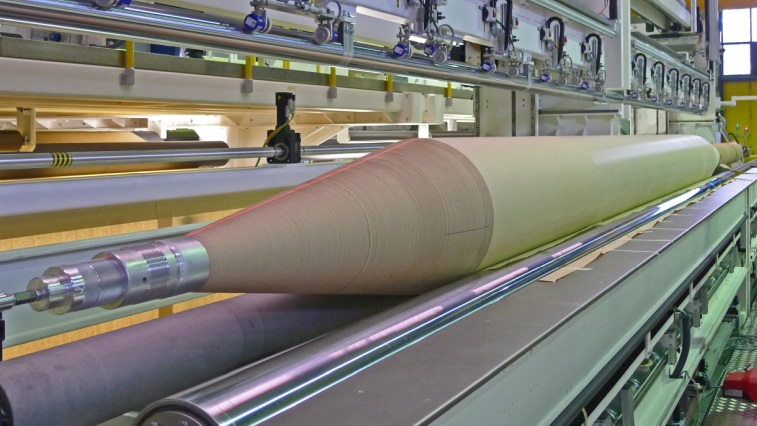 Winders for the production of bushings up to 1100 kV for the high voltage range
Insulation mat winding machine
Winders for glass wool insulation including a banding unit for the finished wound rolls.
Laying winder for narrow strip
Fully automatic traverse winding machine, the strip material is fixed automatically. Reel push-off and core feeding are also fully automatic.
Winder for dimpled sheets and drainage material with slitters and fully automatic banding devices, suitable for sheets up to 4,600 mm
Winding machine for glass fabric for the production of preliminary products for high voltage switch rods.
Edge trim winder & edge trim puller
We offer various solutions for edge trim disposal. The edge trim winder and haul-offs are offered as a mobile device or a unit permanently mounted on the machine.
The edge trim removal is used at the cutting unit. The edge trim made of textile, film or nonwoven is taken off and fed directly to a disposal container.
Edge trim winder, permanently integrated in the main line for winding edge trims made of textile, film and nonwovens.
mobile selvedge winder with laying device
Mobile selvedge winder as a supplementary unit for winding selvedge sections of various materials or cords and tapes as a self-sufficient unit.
mobile selvedge winder with laying device and pendulum
The mobile and variable solution for optimal winding of edge strips made of textile, film and nonwoven.
Edge trim extraction for efficient and controlled removal and disposal of edge trim material.
selvedge winder with laying device
Edge trim winder especially for wide webs and high line speeds as well as long winding cycles
Menzel splice stations are used for various materials: paper, film, textiles, nonwovens. The stations can be integrated into the line or set up separately. Whether manual or automatic splicing stations, with clamping beam or cross cutter - we supply you with the right concept for your material and your application!
Automatic splicing station V
Splicing station for nonwovens with manual tape preparation and automatic cross cutter.
Splicing station for thermally activated adhesive tape
Splicing station for glass fleece: an overlapping joint is made by an adhesive tape which is activated by a heating wire and pressure.
Manual splicing station with clamping bar and cutting groove as well as defect winder.
Aggregates and accessories for winding
SBH
Wrinkle-free guidance of delicate goods
BSW
Wrinkle-free fabric webs
Textile, foil, paper
Slat expander
Gentle fabric guidance of textile fabrics
Edge trim
Cutting of edge strips from textile, foil, nonwoven
Selvedge Winder
Mobile winding of edge trim
A-frame
Winding, transport and storage of large rolls
Banding unit
for sealing rolled up goods
wellenhandling
effective pulling of winding shafts
Transportgeräte für Kaulenwagen, Schnurbreithalter, Breitstreckwalzen, Lattenbreithalter, Changierwalzen, Längs- und Querschneideinrichtungen, Wickelwellen-Handlingsysteme, Rollentransportgeräte, Folienverpackungseinrichtungen, Randstreifenwickler, Randstreifenabsaugungen, Rollenwender, Hülsenmagazine, Banderoliergeräte
Do you need more information? We look forward to hearing from you!